What is a Batt? I guess it depends on who you ask. If you Google the word "BATT" the first thing you see is this:
Batt | Define Batt at Dictionary.com: a sheet of matted cotton, wool, or synthetic fibers
The  wool batting above was only recently carded, meaning that the individual fibres have been tangled together in a carding device.  And, since this is a blog about Rugs, Carpets and Tapestry, that should be the only definition that interests us in this blog post. Should…but then if you go to the next entry you discover the following:
Wikipedia, the free encyclopedia: Batt may refer to: Shortened form of Battery (electricity) · Batt(Rapper) – Russian rapper, actor, producer. Batt (surname) ·Batt Reef, coral reef off Port Douglas…
Urban Dictionary: Batts: A Batt is a Welsh person, Batt is the way it is pronounced, but the word is supposed to be 'bud'. Alright bud, in a welsh accent is 'Aight Batt'.
I mean, who knew?
I've never met anyone with the surname Batt, but there is an obituary listed in the search entries. The first name, Bat, brought back a memory from my distant past. I doubt any of you reading this ever saw the TV Bat Masterson starring Gene Barry way back in 1958. This was the theme song.
They called him Bat, Bat Masterson
Back when the West was very young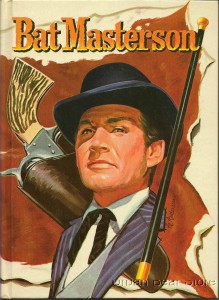 There lived a man named Masterson
He wore a cane and derby hat
They called him Bat, Bat Masterson.
A man of steel the stories say
But women's eyes all glanced his way
A gambler's game he always won
They called him Bat, Bat Masterson.
The trail that he blazed is still there
No one has come since to replace his name
And those with too ready a trigger forgot to figger
On his fighting cane.
So in the legends of the West
One name stands out from all the rest
The man who had the fastest gun